Free delivery and get 10% off with code NOV23 on all e-Commerce orders above £10 (excl. VAT)
Only valid until 30th November at midnight.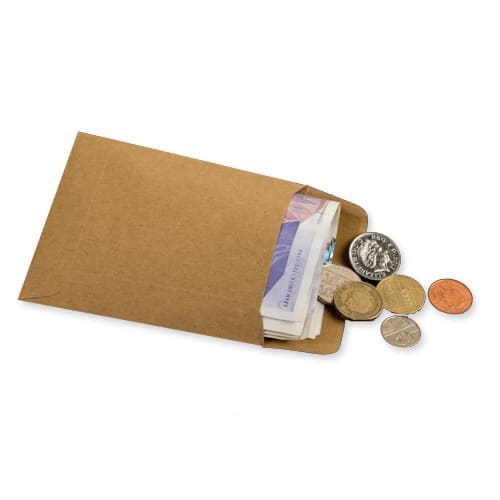 Click Here for Larger Image
Introducing our essential collection of coin envelopes, a must-have for coin collectors and enthusiasts alike. These meticulously crafted envelopes are tailored to safeguard and preserve your valuable coins, ensuring their pristine condition and lasting beauty.
Crafted from premium, durable materials, our coin envelopes are designed to shield your coins from moisture, dust, and any potential damage. With a secure closure, you can rest assured that your cherished coins will be kept safe and secure.
Organizing and storing your coin collection becomes a breeze with these conveniently sized envelopes. Whether you're a seasoned collector, a hobbyist, or a passionate investor, our coin envelopes offer the perfect solution for safeguarding your valuable investment.
Available in classic white and elegant manilla, our envelopes cater to your individual preferences, adding a touch of sophistication to your coin collection.
Invest in our top-quality coin envelopes today and elevate your coin collecting experience to new heights. Don't miss out on the opportunity to protect and showcase your prized coins with the utmost care and attention to detail. Begin preserving your valuable investment now and experience the difference of our premium coin envelopes!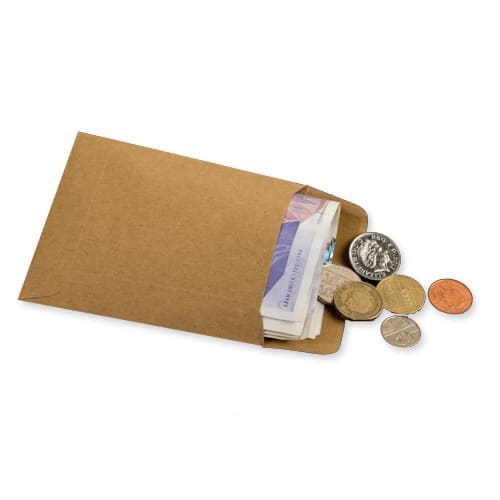 | | |
| --- | --- |
| Height | 60mm |
| Width | 60mm |
| Item Weight | 0.66g |
| Colour | Manilla |
| Finish | Wove |
| Format | Square |
| Seal | Gummed |
| Material | Paper |
| Material Weight | 70Gsm |
| Weight Format | Gsm |
| Seams | Inside Seams |
| Window | Plain |
| Print Type | Standard |
| Box Quantity | 20000 |
| Box Weight | 22.00 kg |
| Size (mm) | 60 x 60 mm |
| Size (cm) | 6 x 6 cm |
| Size (inches) | 2.36 x 2.36 inches |
Found: 4
Faye
on
19 Jun 2023, 9:16 PM
Verified Buyer
YVONNE
on
6 Sep 2022, 1:40 PM
Verified Buyer
Tania
on
15 Mar 2022, 8:34 PM
Verified Buyer
on
17 Feb 2022, 6:50 PM
Verified Buyer
Found: 12
Robb Ellis
on
15 Nov 2023, 9:33 AM
Verified Buyer
Susan Stewart
on
13 Sep 2023, 6:48 PM
Verified Buyer
Jane
on
31 Aug 2023, 1:50 PM
Verified Buyer
suze
on
23 Aug 2023, 6:54 AM
Verified Buyer
Andy Thompson
on
27 Jun 2023, 1:27 PM
Verified Buyer
Fran Duffell
on
27 Jun 2023, 1:09 PM
Verified Buyer
Annabel
on
27 Jun 2023, 10:10 AM
Verified Buyer
Andy
on
25 Sep 2022, 7:56 AM
Verified Buyer
Matt
on
26 Nov 2020, 9:05 AM
Verified Buyer
Abigail
on
4 Oct 2018, 10:42 AM
Verified Buyer
Is there a minimum order quantity?
No. You may purchase just one item or as many as you like! The more you buy, the bigger the discount.
Do I have to be a business if I want to order from you?
No. We sell to businesses and individuals.
What payment options do I have?
You can pay by Credit or Debit Card, PayPal or Bank Transfer.
How much is the delivery?
You have several delivery options. Please visit our page for a detailed information: Delivery Methods
How accurate are the images?
We make every effort to ensure that the product images we use are accurate and up to date.
We endeavour to ensure that all images are as close to the true colour as possible, however we cannot guarantee the colour representation is exact. There can sometimes be shade variations between different batches of envelopes. There can also be variations when viewing on different monitors/screens depending on the settings etc.
If shade is critical, please ask for a sample.
How do I know the envelope is the right size for my cards?
Generally the envelope should be around 10mm bigger than your insert. We offer samples of many of our products, should you wish to check the size or colour before placing your order.
For full FAQ click here.