Set up over 20 years ago, we have grown from a small envelope over printer based at home to having what we believe is one of the largest stocked ranges of envelopes and postal packaging in the UK.
WE ARE CONTINUOUSLY GROWING OUR COMPANY & RANGE
Starting as Madison Commercial Ltd., supplying only B2B with no website, we grew over the years and established our websites: trade to carry on our B2B business and ecommerce to supply customers directly.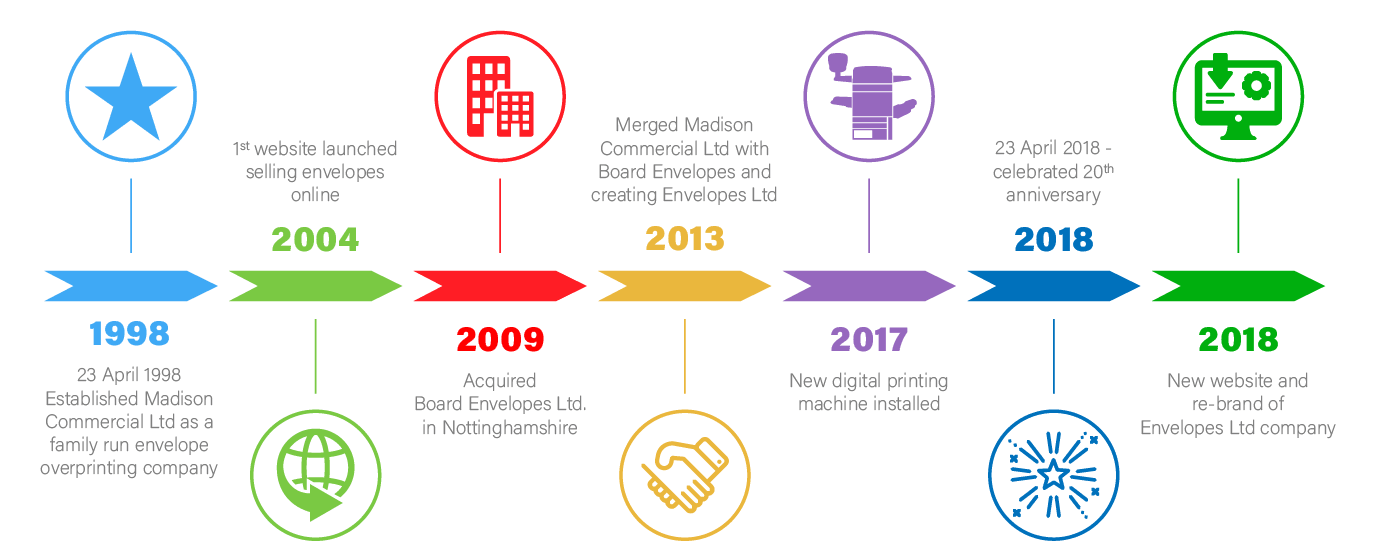 With the exponential growth of online shopping, there was a massive increase in demand for quality and innovative postal packaging and envelopes at competitive prices. We expanded our business successfully as a consequence acquired Board Envelopes Ltd. in Newark to satisfy the market's craving for heavy duty postal packaging, combining formally in May 2013 with Madison Commercial Ltd. to become Envelopes Ltd.
To celebrate our 20th anniversary, we rebranded and offered our customers new and improved websites, to enhance customers experience when ordering with us.
2020 saw us acquiring Ideal Envelopes Ltd. in Sheffield and we were able to merge our ecommerce operations in a larger warehouse hosting our ever-growing range of products.
We now offer a wide range of commercial and greeting envelopes, postal packaging and have created our own eco-friendly range of envelopes called ENVIROLOPES, with innovative plastic-free packaging that are quickly becoming our best-sellers.
EXCEPTIONAL CUSTOMER SERVICE
With our enormously varied portfolio of products comes to a very knowledgeable and experienced team able to advise you on your projects and needs, whether it is for stocked items, overprinted products or fully bespoke items. Get in touch now!